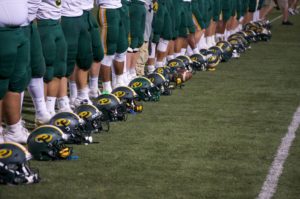 Players from all three levels will be out Saturday morning, July 28 at the annual Fill the Helmet fundraiser! Come say hi to the teams! You'll be able to donate to Placer Football, plus pick up a schedule card listing all of the 2018 games, as well as purchase Gold Cards and Kickoff Dinner Tickets.
Freshmen, JV, and Varsity players will be at Mr. Pickles and Dutch Bros on Fulweiler, as well as Safeway, Bel Air, and SaveMart from 9 AM to 1 PM. They will also be at Depoe Bay Coffee Company from 7 to 8 AM and at the Farmers Market from from 8 to 10 AM, and new this year: Quick Quack car wash from 8 to noon! Bring the flyer below to Quick Quack and if you get your car washed, Quick Quack will donate a portion of the proceeds to Placer Football!
We look forward to seeing you there!
Thank you so much for your support!